Donny Osmond is a former child star who did not get to experience a normal childhood. However, when he had his kids, he ensured that things would be different for them and has not looked back ever since.
In his autobiography, "Life Is Just What You Make It," child prodigy Donny Osmond reflected on his not-so "normal" childhood.
He shared that he had a brief school experience but that it was unforgettable. According to Donny, the entire school experience did not make up more than a few months.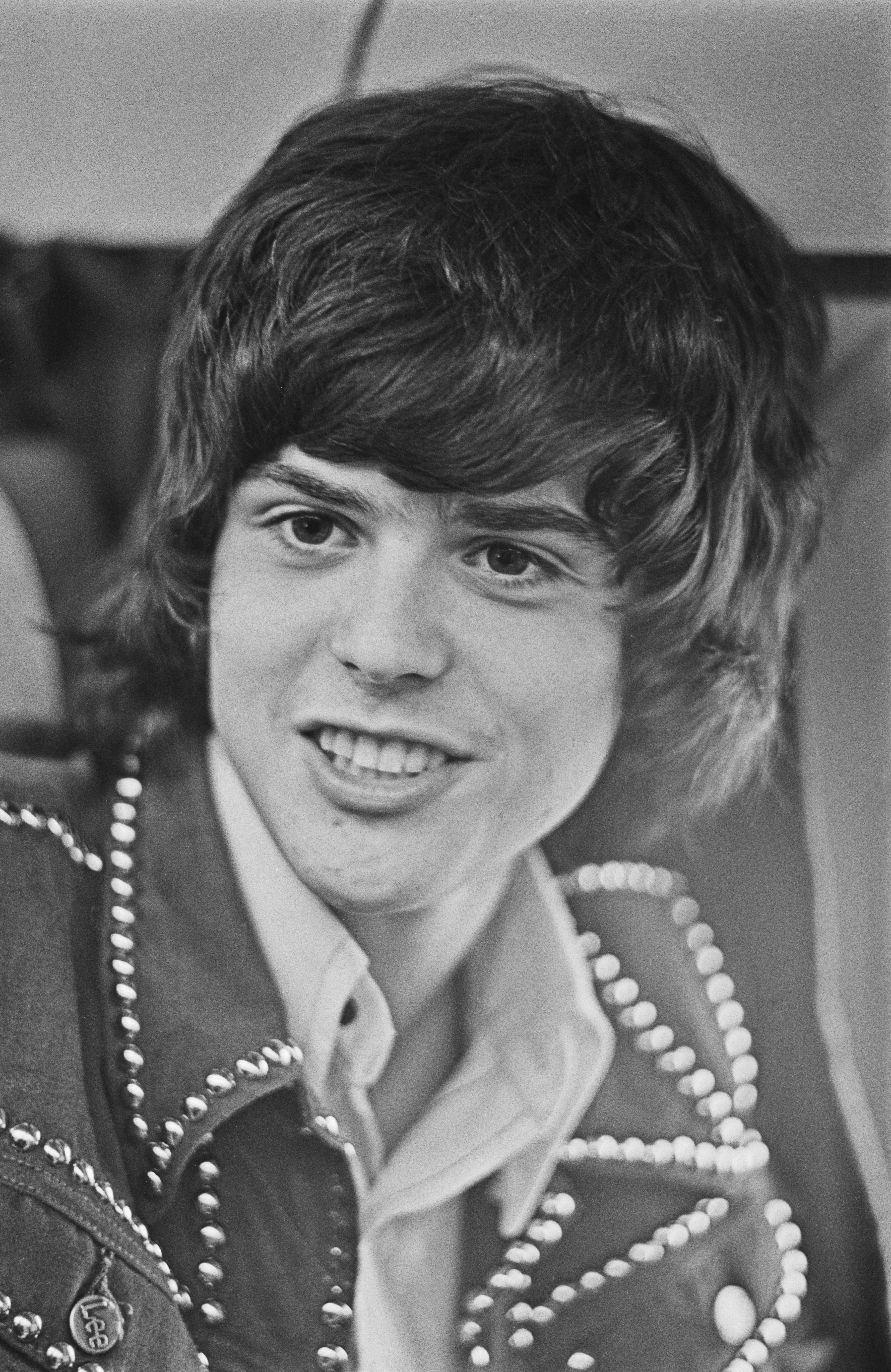 Actor Donny Osmond photographed on board an aircraft with his family in October 1973 in the United Kingdom. | Source: Getty Images
The singer revealed that he has always been naughty and that if he had an ordinary upbringing, it would have entailed partaking in silly pranks with some of his childhood friends:
"I've always had a mischievous streak, and had I lived a normal childhood; it would probably have found outlets in all kinds of typical boyish pranks."
Time went by so fast for young Donny, who, when he looked up, was missing out on childhood routines because he was busy singing with his brothers in a band called the Osmonds on national TV.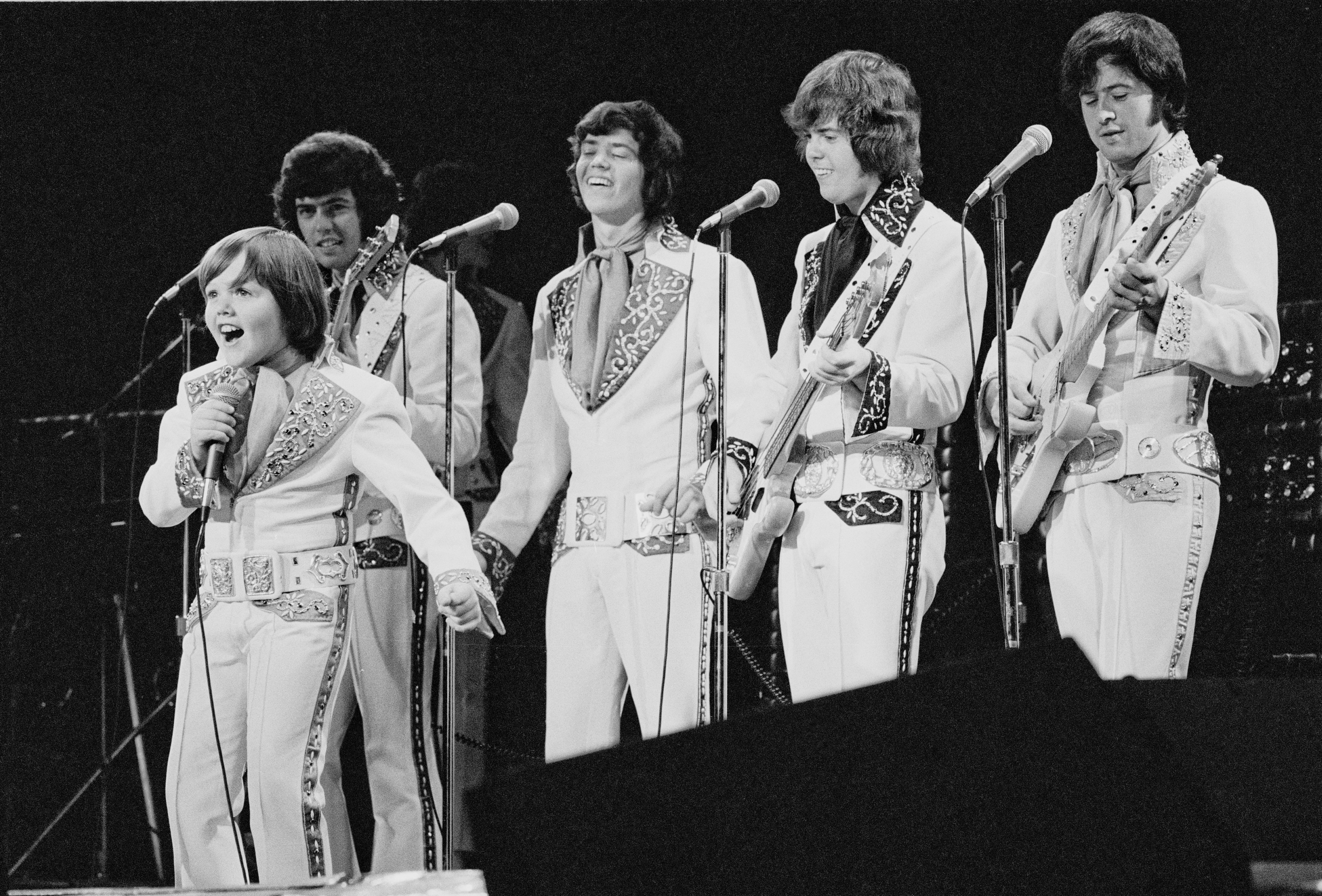 Pop group The Osmonds from: (L-R), Jimmy Osmond, Alan Osmond, Donny Osmond, Merrill Osmond and Wayne Osmond performing at the Rainbow Theatre on November 4, 1972 in London. | Source: Getty Images
The music career path for Donny was thriving; he and his siblings were making waves in the showbiz industry, earning several top hits and going gold:
"My brothers and I kept churning out hit records and touring sold-out stadiums and first-class showrooms worldwide. We performed for royalty; we amassed a literal fortune."
Donny instantly became a teen idol, and by the age of 19, he met his future wife, actress Debbie Glenn, who later became Osmond through marriage.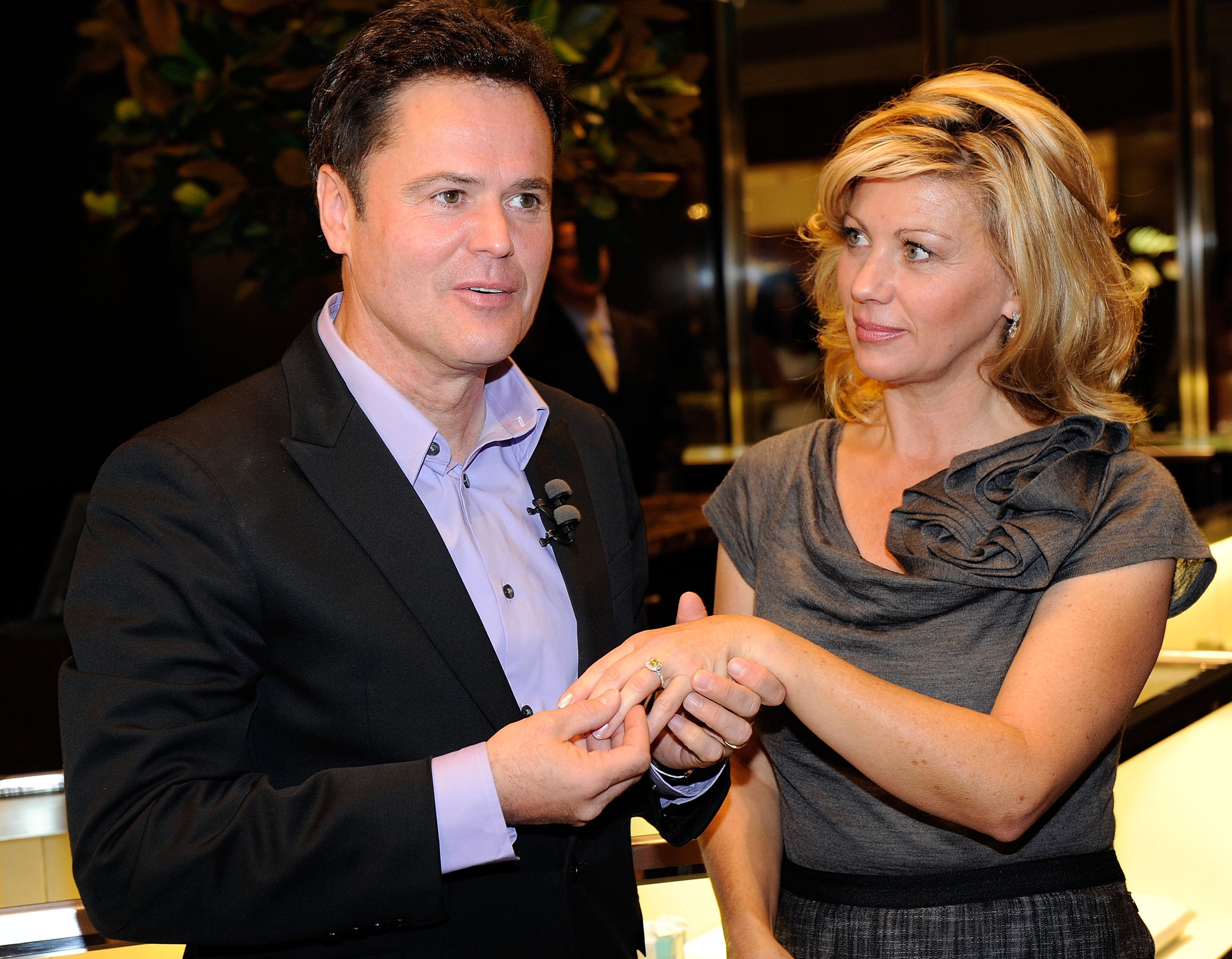 Singer Donny Osmond and his wife, actress Debbie Osmond pictured looking at Tiffany & Co. engagement rings at The Forum Shops at Caesars on October 10, 2010 in Las Vegas, Nevada. | Source: Getty Images
It was love at first sight for the couple, even though Debbie played hard to get at first. Donny told Utah Valley Magazine once that he wanted to "plan something special" for their first kiss in 1976.
The Hollywood star set a date for them and sent a limo to pick her up at her house. The lovebirds headed to Sundance for dinner.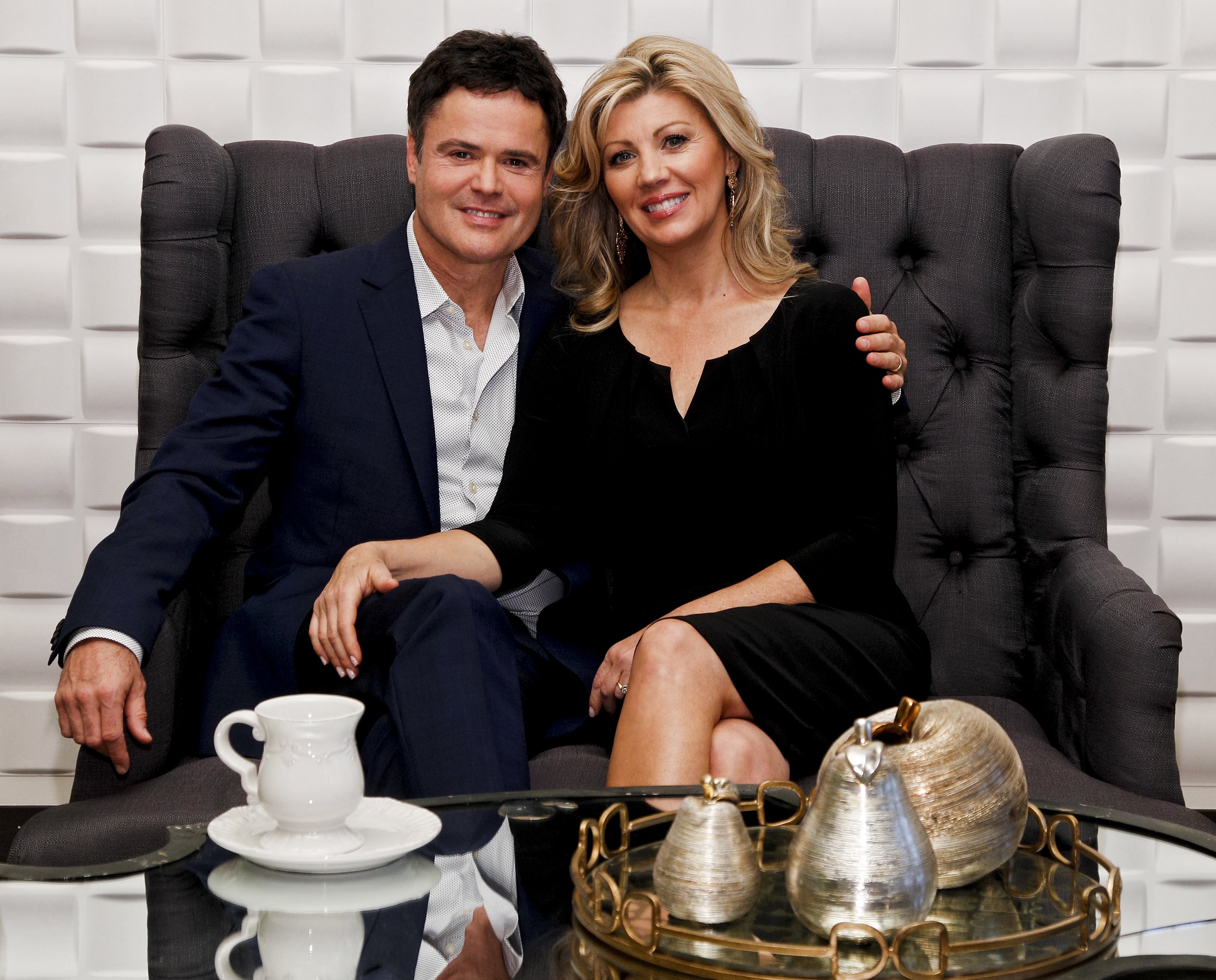 Donny Osmond and Debbie Osmond attending the launch of Donny Osmond Home on September 23, 2013 in New York City. | Source: Getty Images
However, though they were head over heels about each other, only one person stood in the way of their romance, Donny's father, George Osmond. The actor revealed that his dad disapproved of his relationship with Debbie because he feared it would hinder his career:
"While the world knew me as a teen idol, and the Osmonds' fame was at its height, I began secretly dating Debbie Glenn. By the time I was 19, I knew I was in love and had to do something right for me. When I told my dad, he said, 'Well, there goes your career, but this is ushering in your personal life."
Even though George was somehow right about his son's career after the pair tied the knot, Donny said he had no regrets about choosing Debbie:
"Debbie is an amazing person to be with. If I hadn't married her, I'd have been a mess. Now I had someone who understood me and with whom I could build a future together."
The happy couple wed in 1978, and despite George's lack of support for their relationship, they have been together for 44 years.
DONNY WANTED TO GIVE HIS KIDS A 'NORMAL' CHILDHOOD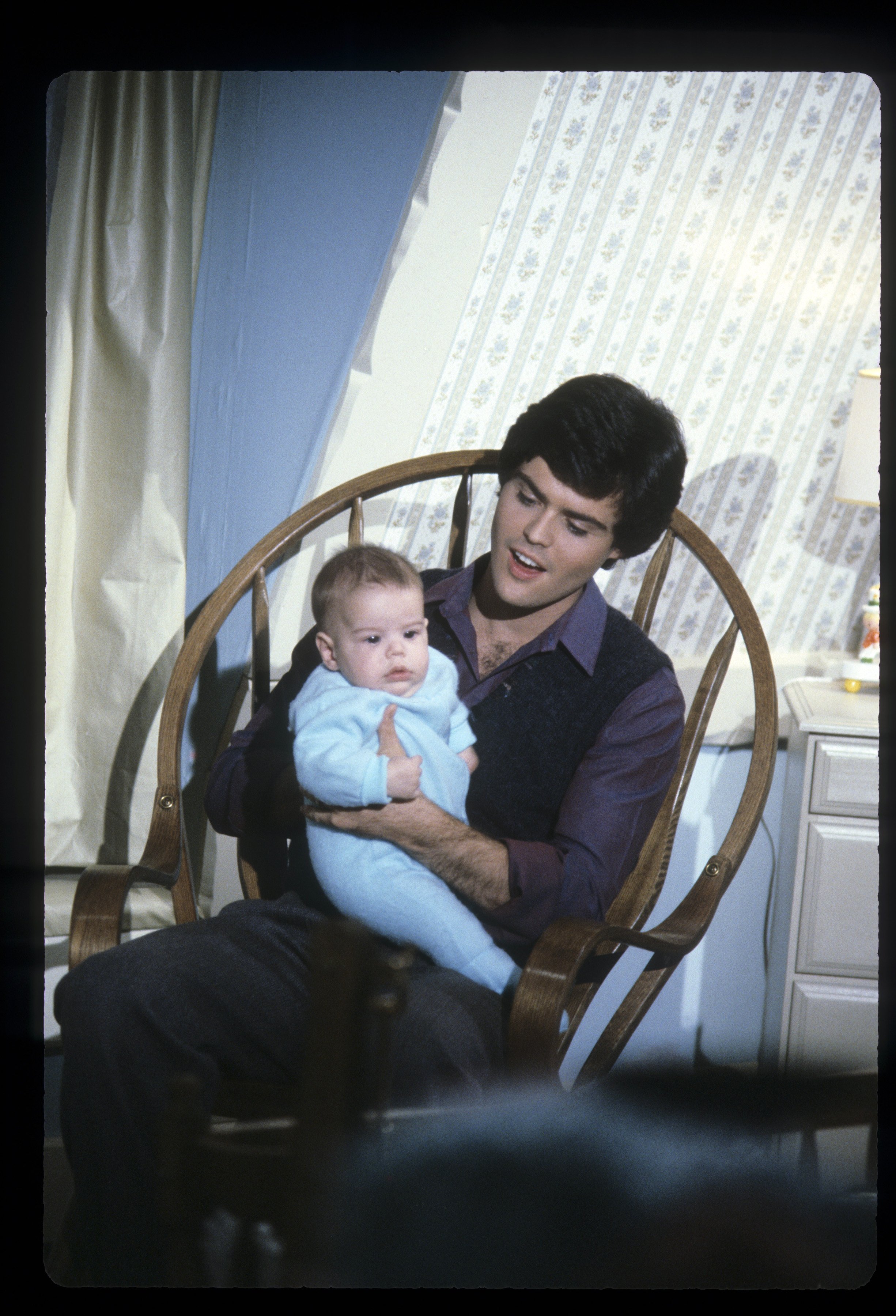 Television host Donny Osmond pictured with his first son, Donald Jr., Osmond on "The Donny and Marie Christmas Special" on December 14, 1979. | Source: Getty Images
Within their blissful marriage, Donny and Debbie welcomed five children, sons Donald Jr., Christopher, Brandon, Jeremy, and Joshua.
Donny noted in his book that he tried his best to give his brood a "normal" upbringing. He prioritized family over fame and money. The doting father and his wife agreed for their kids to move back to his hometown, Utah, where they raised them from the limelight.
The couple did not allow cameras into their home environment for years. Donny wrote a lengthy statement about his love for his family on Instagram in September 2019, alongside a family group photo: "This is my family. They mean the world to me. My relationship with them means more than money, award, a gold record, trophy, or accolade."
When speaking on fatherhood in another social media post in June 2020, the "Sacred Emotion" singer said being a dad to his sons was a joyous experience:
"Being their father is one of my greatest joys, and watching our sons take on the role of #fatherhood with such love, patience and tenderness is a precious gift."
All his sons are married adults. Donny shared once how it felt to witness his brood having families of their own. When his youngest child Joshua wed his long-time girlfriend Summer in June 2020, the proud dad admitted to Closer Weekly that he and Debbie have always longed to see their children get married:
"Debbie and I have longed for this day when all five of our sons are happily married. Summer now completes that wonderful journey of seeing our children now stand with confidence, independence, and happiness as husbands."
In addition, Donny loves taking the rest of his family to events. He took them to Stadium Of Fire in July 2022, a show that has existed since the '80s.
The TV host shared a video from the event on Instagram where some of his family could be seen enjoying themselves amongst the crowd. His beloved sister, Marie Osmond, performed that day.
DONNY HAS 12 GRANDCHILDREN
Notably, Donny and Debbie's eldest son, Donald Jr., was born in July 1979. He works at a public relations firm, per The Spectrum.
Donald Jr. has a wife named Jessica Nelson Osmond, whom he married in 2010. The couple shares four children.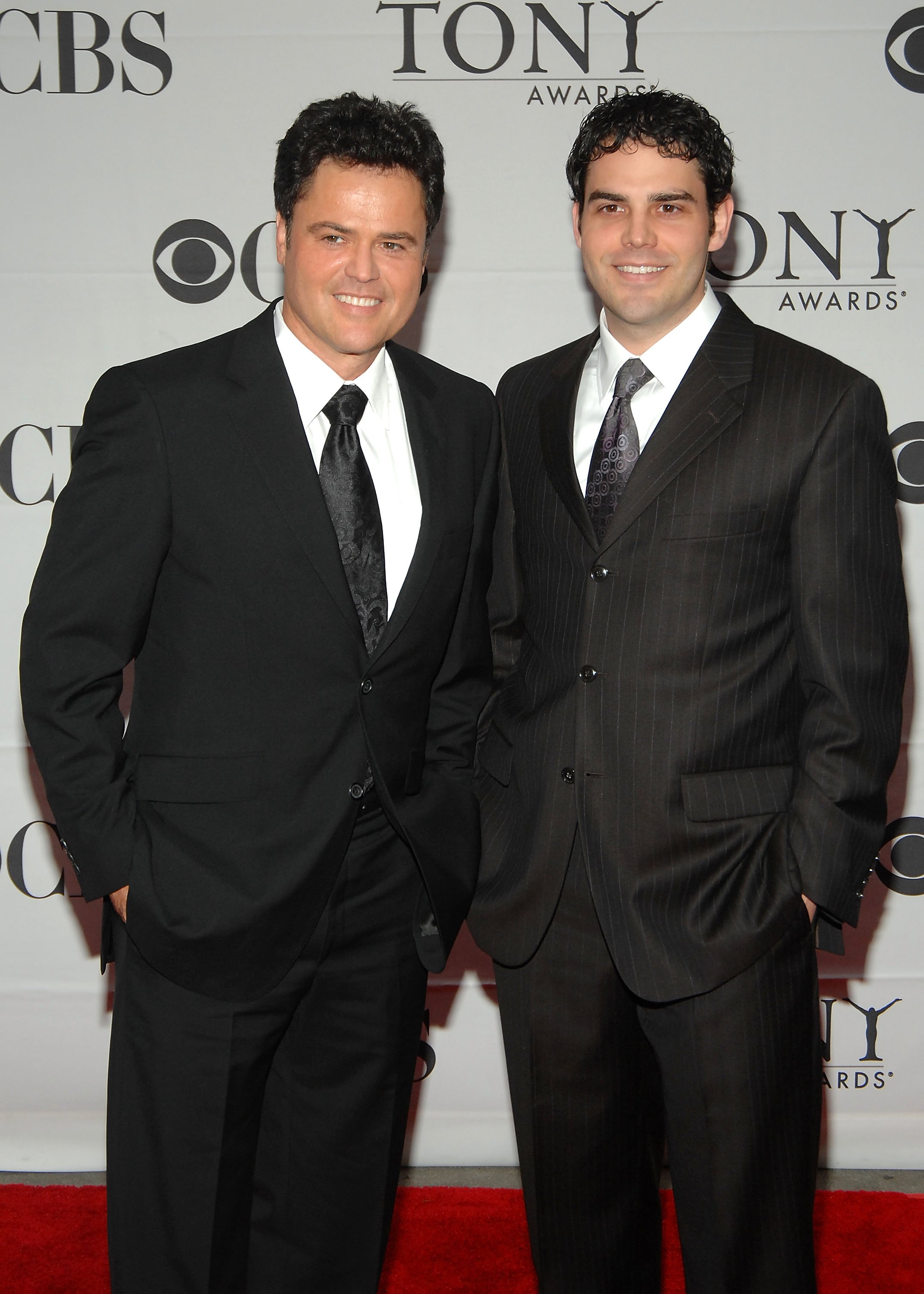 Donny Osmond and his son Donny Osmond Jr. arriving at the 61st Annual Tony Awards at Radio City Music Hall June 10, 2007 in New York City. | Source: Getty Images
Debbie and Donny's second son Jeremy arrived in June 1981. Like his older brother, he also chose not to pursue a career in Hollywood and earned his doctorate instead.
He is currently a physical therapist. In 2002, Jeremy married his spouse, Melisa Osmond, and the pair welcomed three kids, daughter Emery and sons Dylan and Ryder.
Donny and Debbie welcomed their third son, Brandon, in January 1985. Unlike his older siblings, he enjoys the arts, music, singing, and art. Per his website, Brandon is "an advertiser, an art director, a photographer, a musician, and a singer."
The multi-talented individual is married to Shelby Osmond, and they have four sons, Benson, Daxton, Peder, and Tayte.
Debbie and Donny had their fourth son, Christopher, in December 1990. Per his Instagram, he is quite accomplished in his own right and is into photography.
Christopher became a first-time father in November 2020 when he and his wife, Alta Osmond, welcomed their daughter, Aussie.
Debbie gave birth to her and Donny's youngest son, Joshua, in February 1998. As a youngster, he is already making big moves in his life.
In 2016, Joshua moved to Rome, Italy, to serve as a missionary for The Church of Jesus Christ of Latter–Day Saints. Since returning to the US, he has kept busy and even wed his love Summer Felsted.
His father gushed on Instagram in 2021 that he was proud of the young man he turned out to be and that he felt "honored to be called" his dad. Donny added that he and Debbie love their youngest child dearly.