Apart from her successful career and multiple talents, one thing Martha Stewart has gained notoriety for is trying out numerous outrageous outfits and looks. So, it was not a surprise when she donned unusual trousers after her 81st birthday.
Just like her lifestyle, Martha Stewart celebrated her 81st birthday in style. The American personality turned up by surprising her fans with a stunning picture posted on her Instagram feed.
The superstar chef appeared to be fully reclined while striking her signature pursed-lips pose. According to Stewart, she celebrated her special day with a big birthday dinner and just a bit too much of her wine, "19 Crimes Martha Stewart Chardonnay."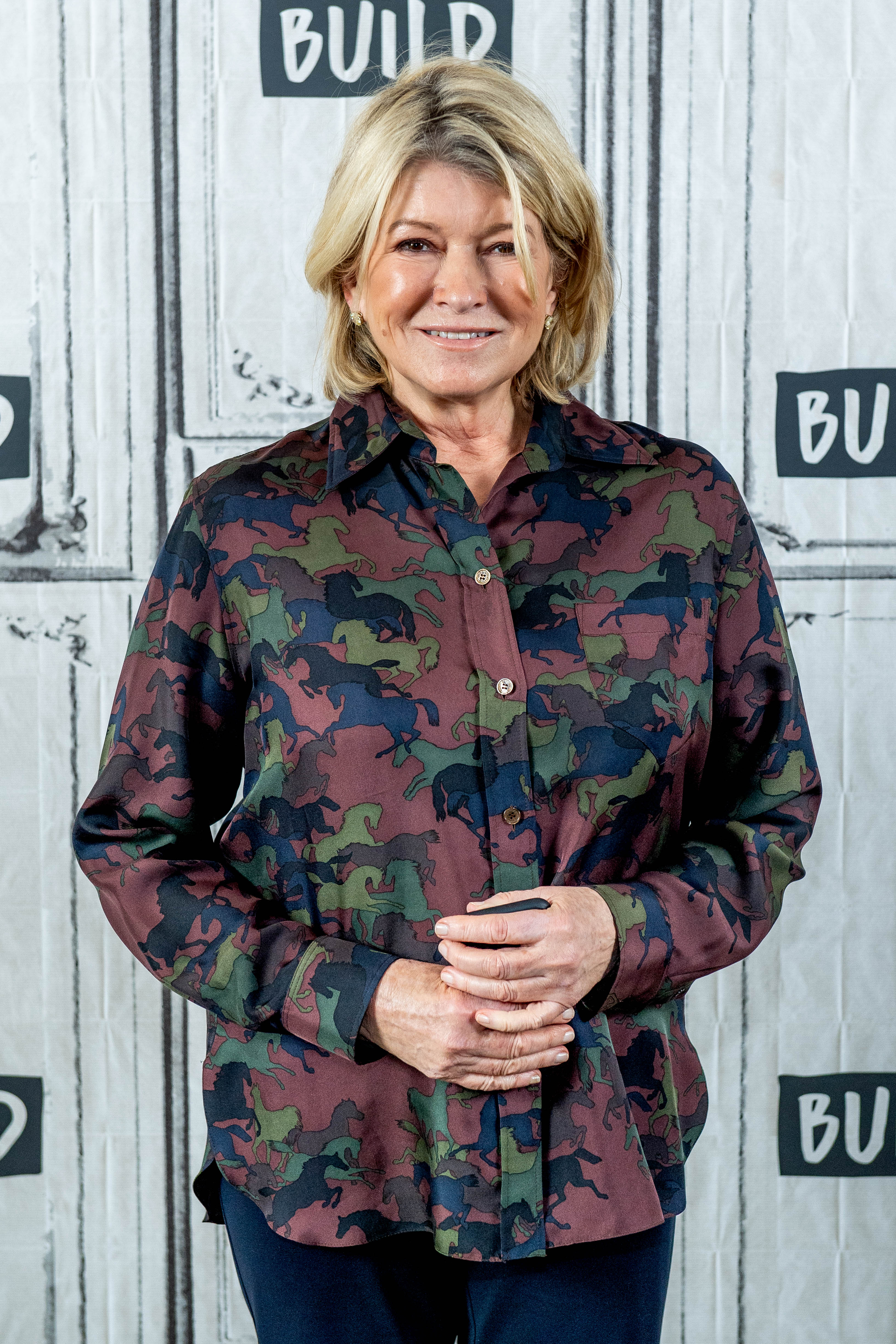 Martha Stewart discusses "Martha Stewart Weddings" with the Build Series at Build Studio on April 18, 2018, in New York City. | Source: Getty Images
The lifestyle expert's fans have gotten accustomed to her sharing glamorous pictures of herself on Instagram. Two years before, in July 2020, Stewart shared a steamy picture of herself by the poolside wearing a black bathing suit and dewy makeup.
After the picture went viral, the lifestyle expert revealed she took the picture, not knowing it would be tagged a "thirst trap."
However, after posting the picture, seeing the reactions, and discovering what a 'thirst-trap' was, Stewart noted she was looking forward to taking similar pictures because she loves doing something provocative and promiscuous. After all, it is fun.
Nevertheless, multiple fans rushed to the birthday post to congratulate the celebrity chef on her 81st birthday.
INSIDE MARTHA STEWART'S 81ST BIRTHDAY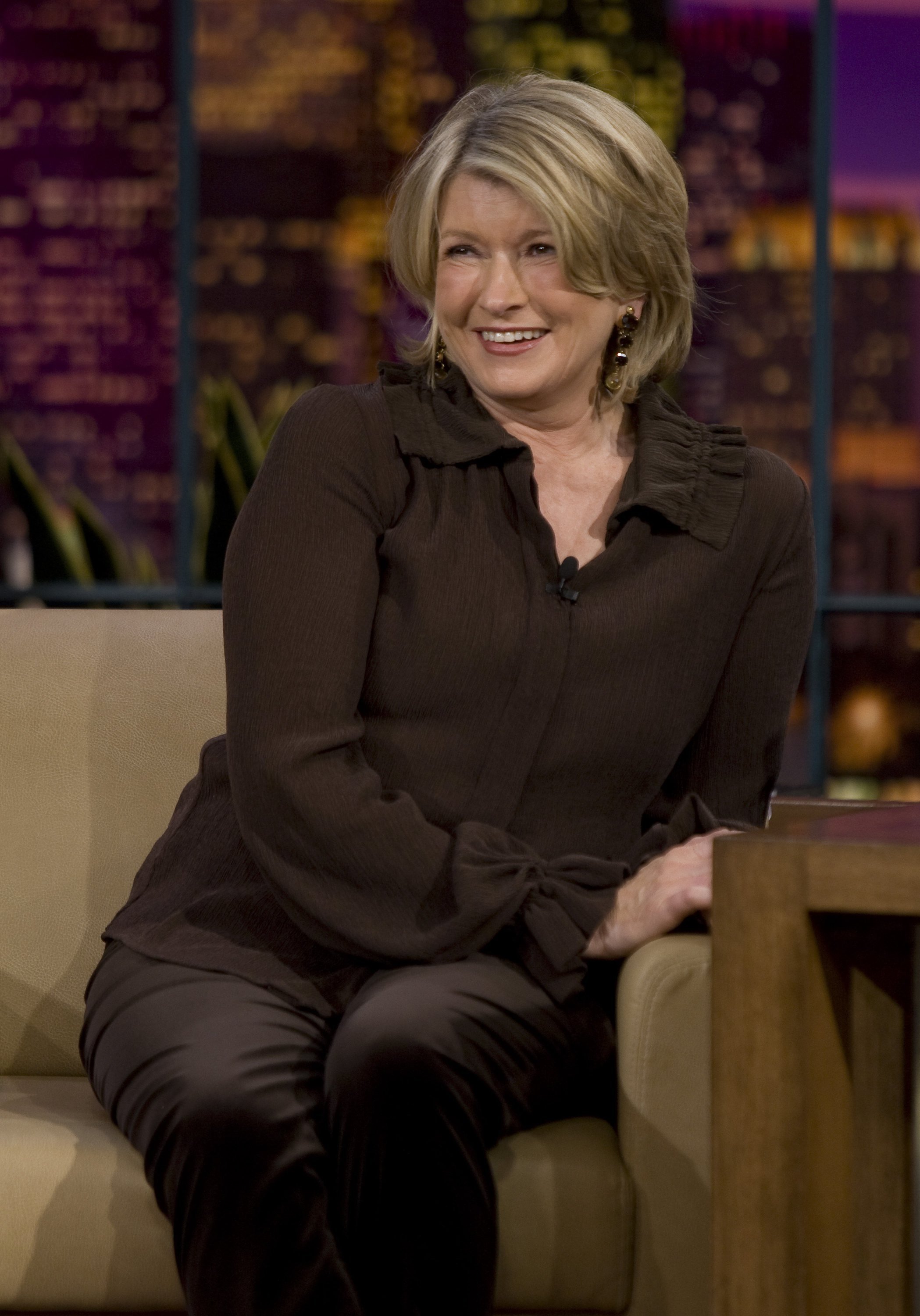 Martha Stewart during an interview on "The Tonight Show" with Jay Leno on November 10, 2007. | Source: Getty Images
Stewart celebrated her 81st birthday at her estate in Seal Harbor, Maine. The closest friends of the master chef showed up to celebrate with her. Speaking about the event, Stewart disclosed that she hosted a dinner for 20 of her friends at the estate just outside Acadia National Park.
The lifestyle expert had local lobsters with caviar-filled roasted potatoes accompanied by her chardonnay and her friend Molly Chappellet's Cabernet Sauvignon.
The Tv personality's birthday cake was a four-layered coconut type served with fresh peach ice cream. Her friend Kevin Sharkey also made huge floral arrangements for her house. These included Hydrangeas, Snap Dragons, Delilahs, and Lily flowers for her garden.
Due to Acadia National Park surrounding her house, Stewart believed it was essential to maintain its features. The television personality confessed she and her friends spent the dinner talking about the importance of America's National Parks and protecting them for generations to come.
Stewart also declared that America had the most beautiful National Parks in the world, and she and her friends took full advantage of it, especially after the two years of being unable to travel due to COVID-19 and the subsequent lockdown.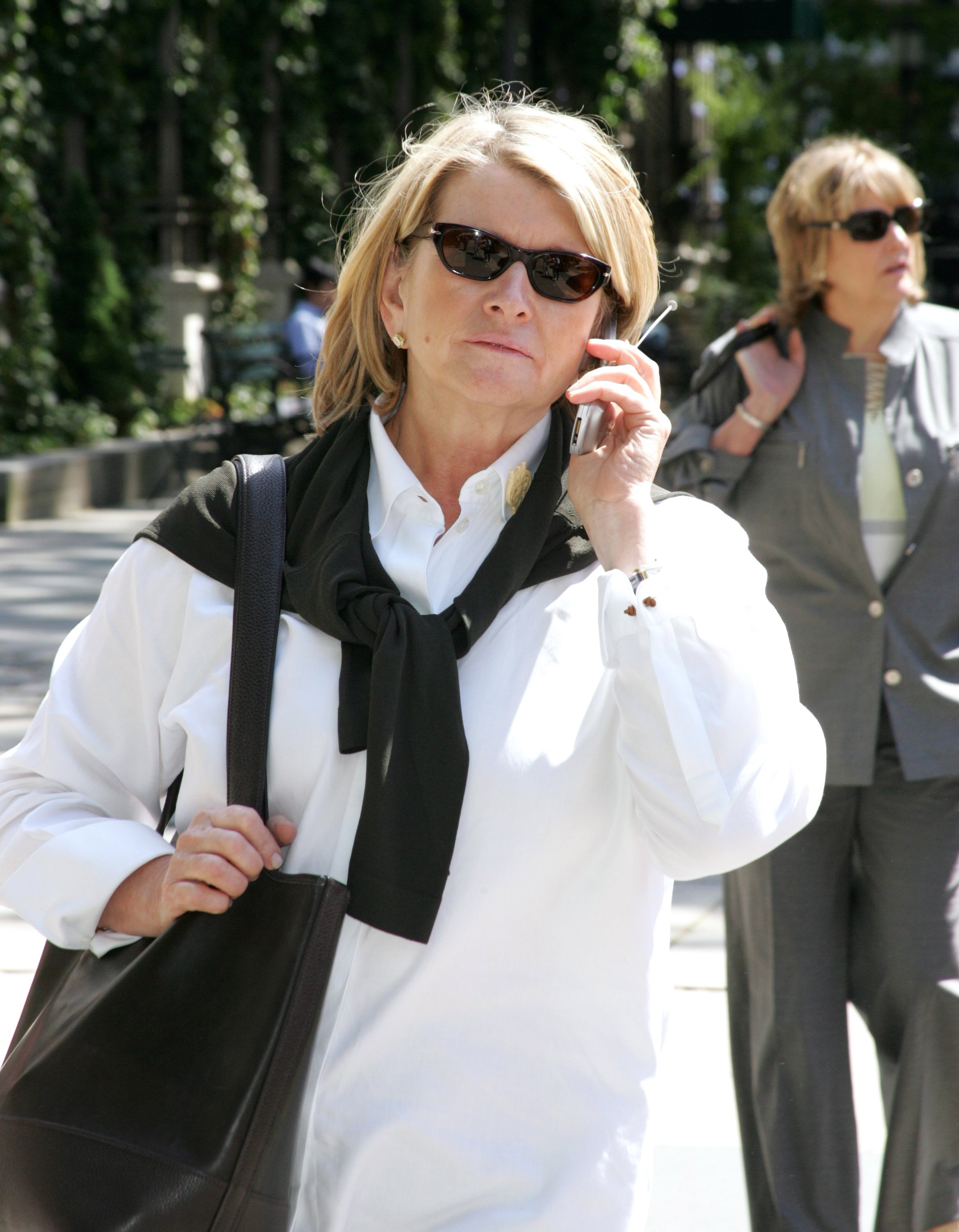 Martha Stewart was Sighted in New York City on June 2, 2004, Outside ILO and the Bryant Park Hotel in New York City. | Source: Getty Images
According to her, these restrictions reinforce the need for national parks to be supported and taken care of. However, one other thing that has since caught people's attention after Stewart's birthday dinner is another picture she posted on her Instagram months later.
In the picture, the chef stood beside her friend Susan Magrino; however, her shorts sparked a flurry of comments. Stewart donned unusual color-matching trousers and top.
While some people praised her clothing style and choice, others questioned what she wore, noting that it looked like the lifestyle expert was not putting on trousers.
However, considering the Tv personality's knack for the dramatic in the past, her outfit choice was not that surprising.
STEWART'S SURPRISING LOOKS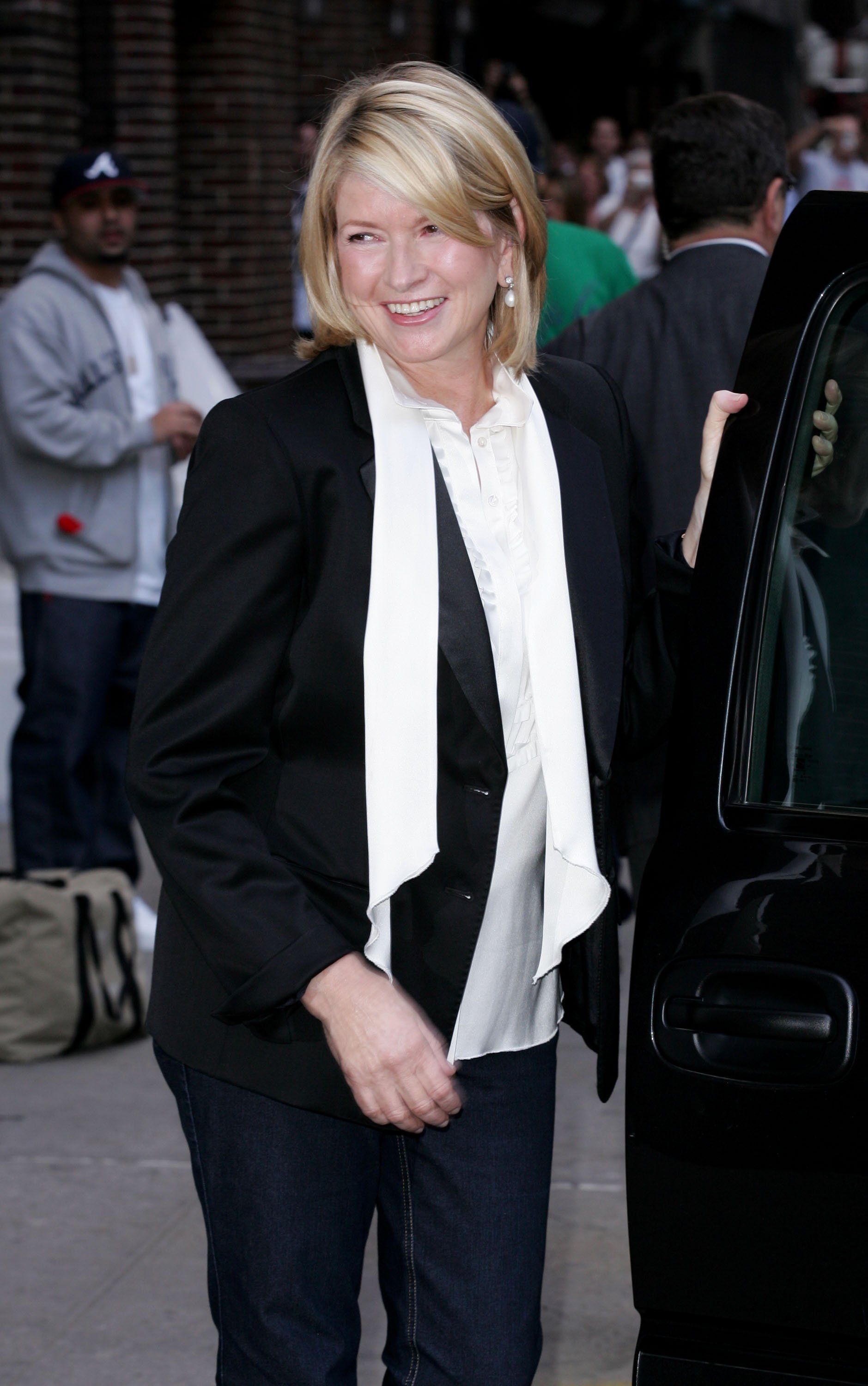 Martha Stewart during She and Justin Timberlake's Visit to the "Late Show With David Letterman" on September 11, 2006, at Ed Sullivan Theatre in New York City, New York, United States. | Source: Getty Images
Early in February 2022, Martha Stewart stepped out in what appeared to be a simple pair of brown leather leggings. However, a closer and more detailed look showed that her espadrille wedges were not separate but seemingly connected to what appeared to be leggings.
One might conclude she was wearing joots, which are pants and boots combined into one, but the picture did not make identifying her outfit any easier.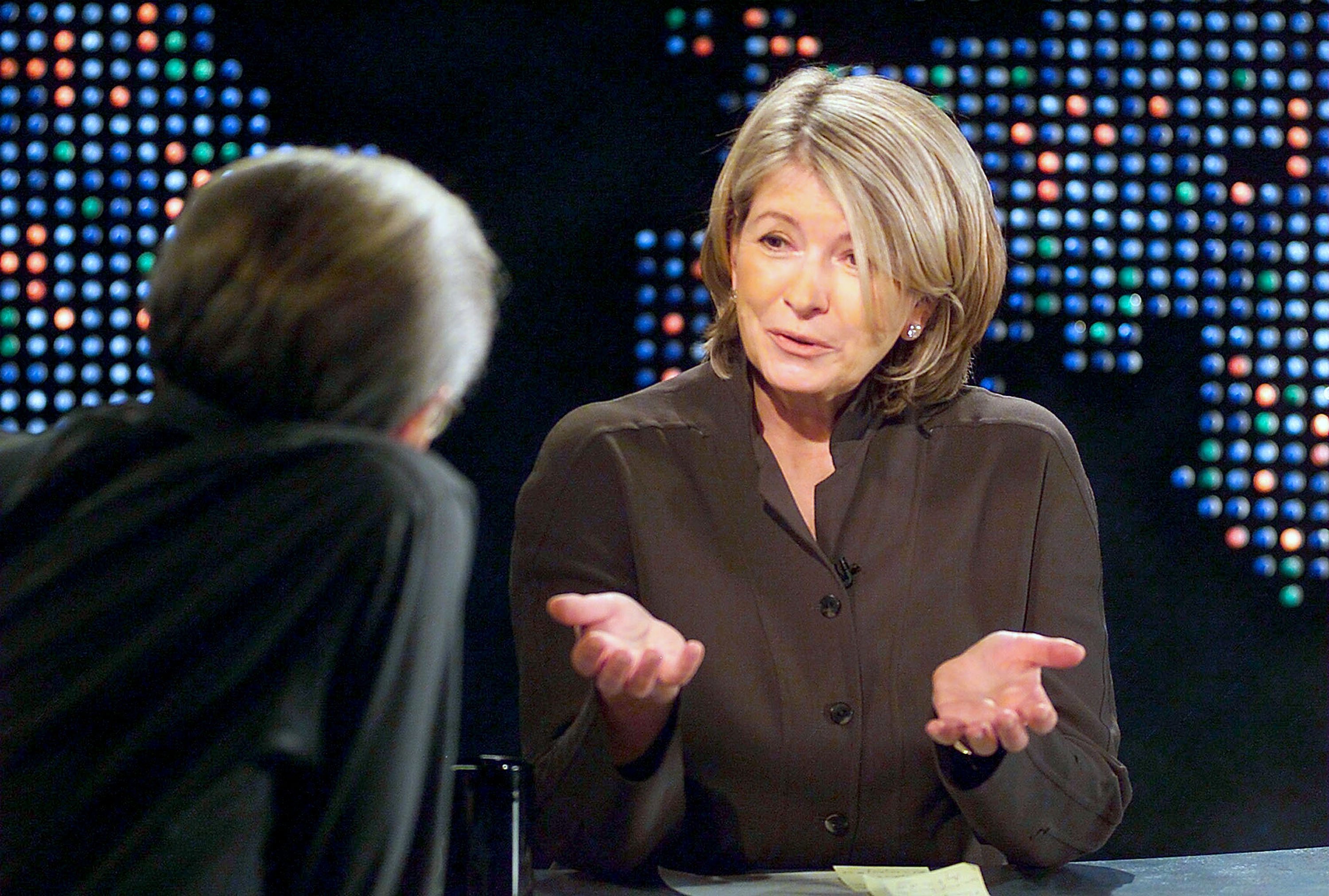 CNN's Larry King interviews Martha Stewart during a taping of Larry King Live on Saturday, December 20, 2003. | Source: Getty Images
Although at first glance, the 'leggings' looked like they slipped over her feet with a peep-toe and cut-out near the heel bone, it is also possible the leggings were tucked into espadrille wedges in identical colors.
Also, there is no information about Stewart's looks on the internet, and her outfit could have been just leggings or joots. The television personality is known for wearing outrageous and colorful outfits, and one does not have to look too far from her 2013 Halloween costume.
For the 2013 Halloween, Stewart transformed into a fairy grandma. The lifestyle expert donned a ballerina's leotard, yards of pink tulle, and sparkling accessories.
She also had some fantastic makeup and hairstyling done. Combining all these costumes and accessories, Stewart transformed herself into what she called a 'fairy GrandMartha.'
Like many celebrities, Stewart takes Halloween very seriously, and her choice of costumes first gained prominence in 1998 when she dressed up as a boogie boarder.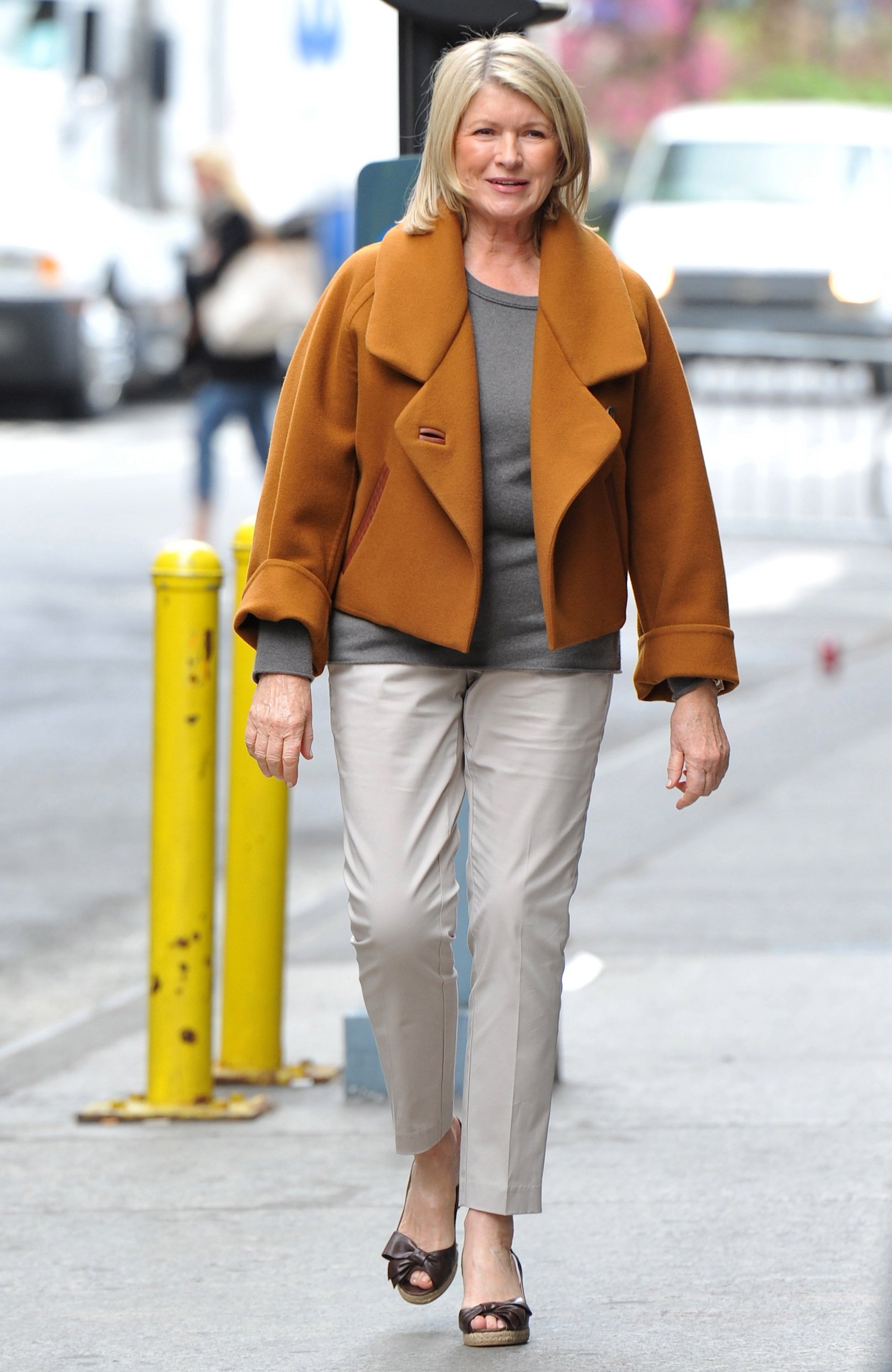 Martha Stewart was sighted in New York City on April 10, 2012. | Source: Getty Images
In 2005, the former model wore the 'Martha's Jane of the Jungle costume.' The TV star took inspiration from Edgar Rice Burrough's "Tarzan" series.
A year later, Stewart dressed up and posed as a black cat. In 2007, she starred in the special Halloween issue of Martha Stewart, donning two iconic looks.
On the front page, Stewart dressed up as a vampire, which she called a 'glampire' look. On the back of the same magazine, she starred as a gold-clad goddess.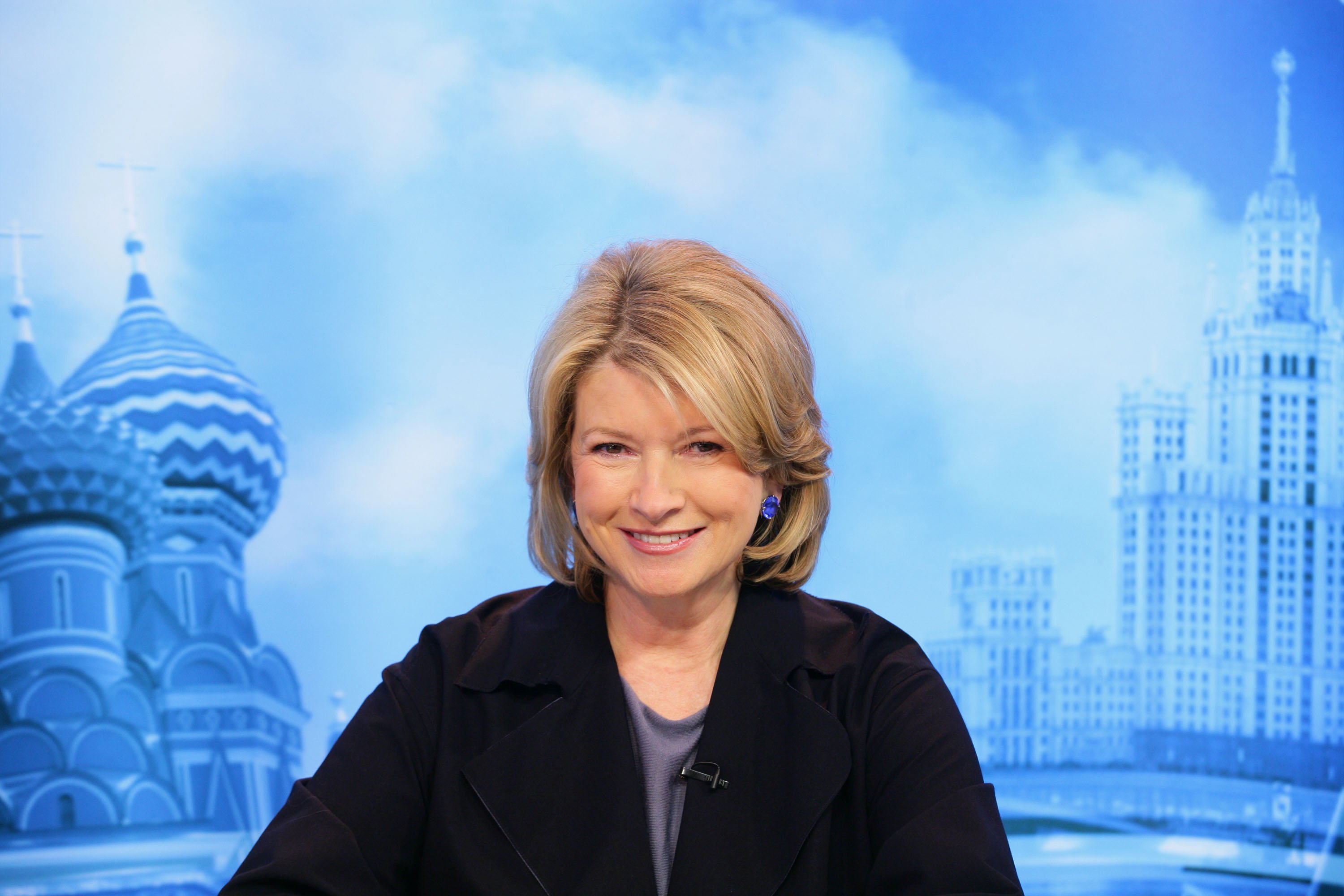 Martha Stewart poses during an interview with Bloomberg News in Moscow, Russia, on Tuesday, April 10, 2007. | Source: Getty Images
The following year, Stewart went for something scarier on her Halloween issue. The former model dressed up as a 'Ghostly Equestrienne' with her 'dark but dear steed, Rutger.' She then completed the look with a top hat veiled with black netting.
In 2009, the master chef wore a Queen of the Wild Things costume, which she also wore on season five of "The Martha Stewart Show."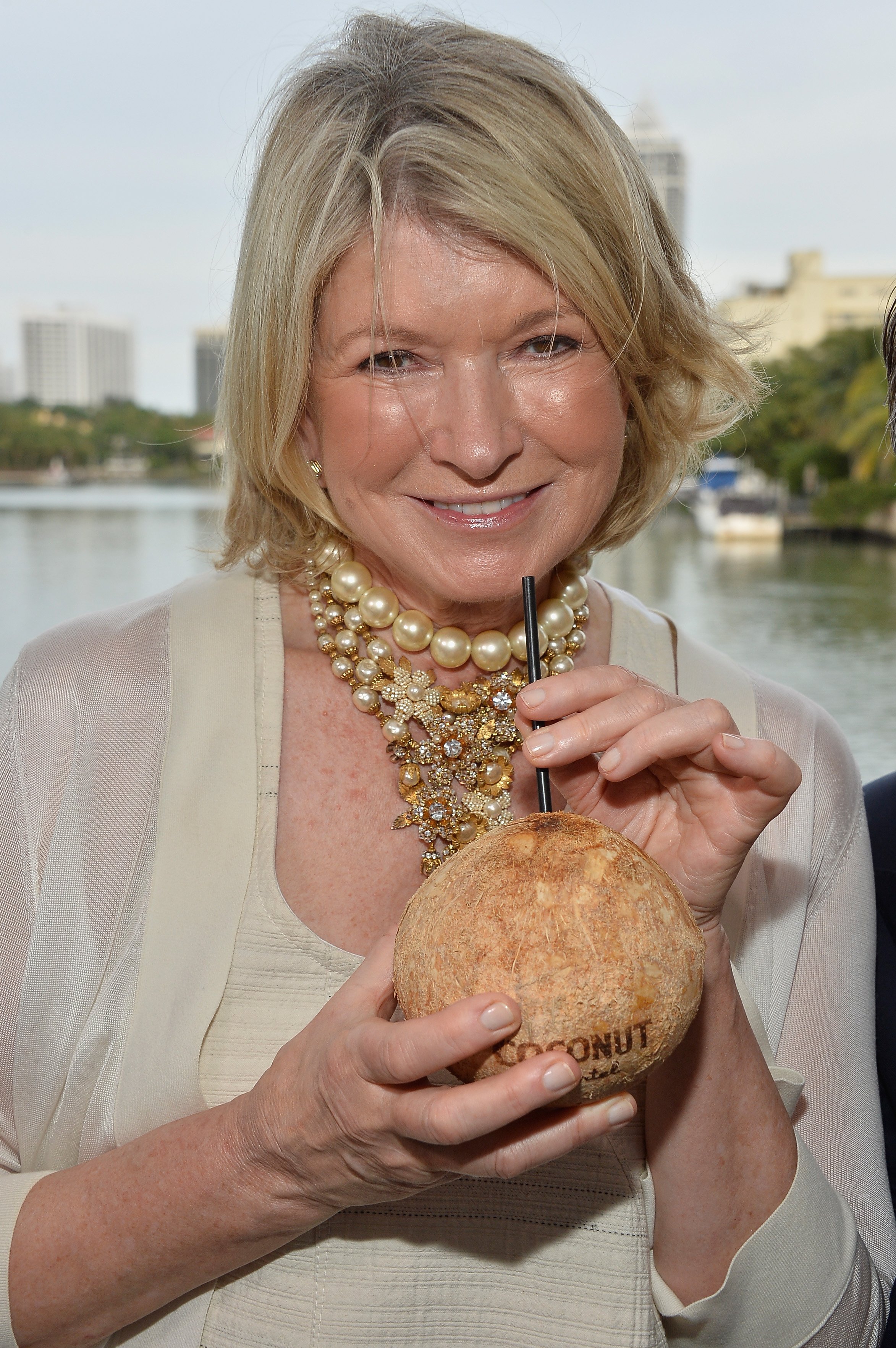 Martha Stewart Celebrates South Beach Wine and Food Festival with DuJour Magazine's Jason Binn and Lee Brian Schrager at The Ritz-Carlton Miami Beach Residences on February 21, 2014, in Miami Beach, Florida. | Source: Getty Images
In 2011, Stewart transformed into what she called Motha, the winged wonder. For the costume she wore to accomplish the look, Stewart wrote:
"I'm 'Motha' dressed in a homemade cape with a faux-fur collar. My makeup includes feathered lashes with clip-art wings around the eyes and a platinum-blonde wig."
Stewart revealed she turned to the 'Insecta order Lepidoptera' for the costume inspiration. After transforming into a fairy grandmother in 2013, the former model donned mystical blue contact lenses for her 2018 Halloween look.
She appeared to be going for a blonde Cleopatra or a Bo Derek look. However, Stewart did not specify the look she was going for, so we can only assume.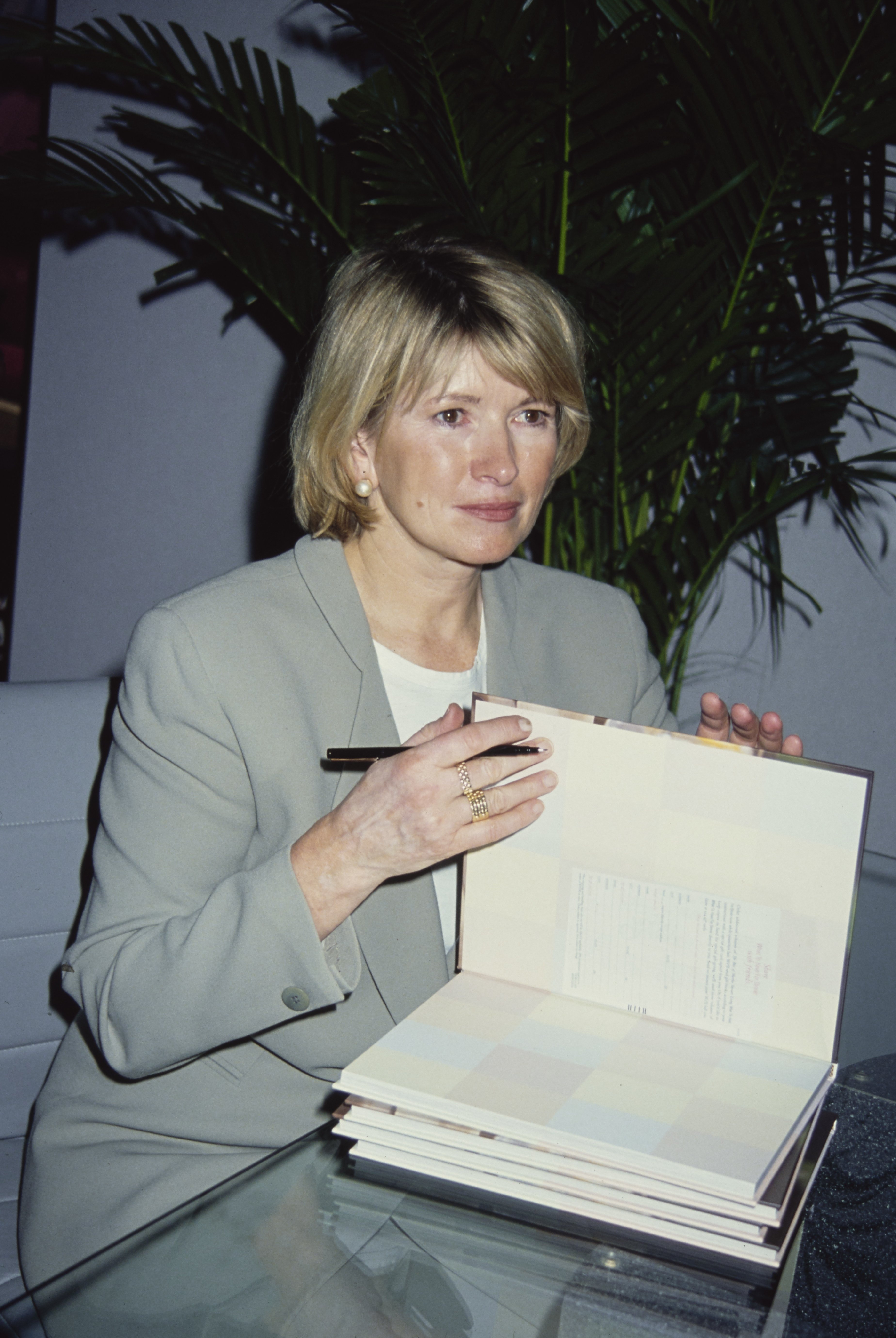 Martha Stewart attended the 33rd National Association of Television Program Executives (NATPE) Convention & Exhibition, held at the Sands Convention Center in Las Vegas, Nevada, in January 1996. | Source: Getty Images
Nevertheless, one thing that has remained consistent and certain throughout her career is that Stewart is not afraid of trying out multiple outrageous looks.